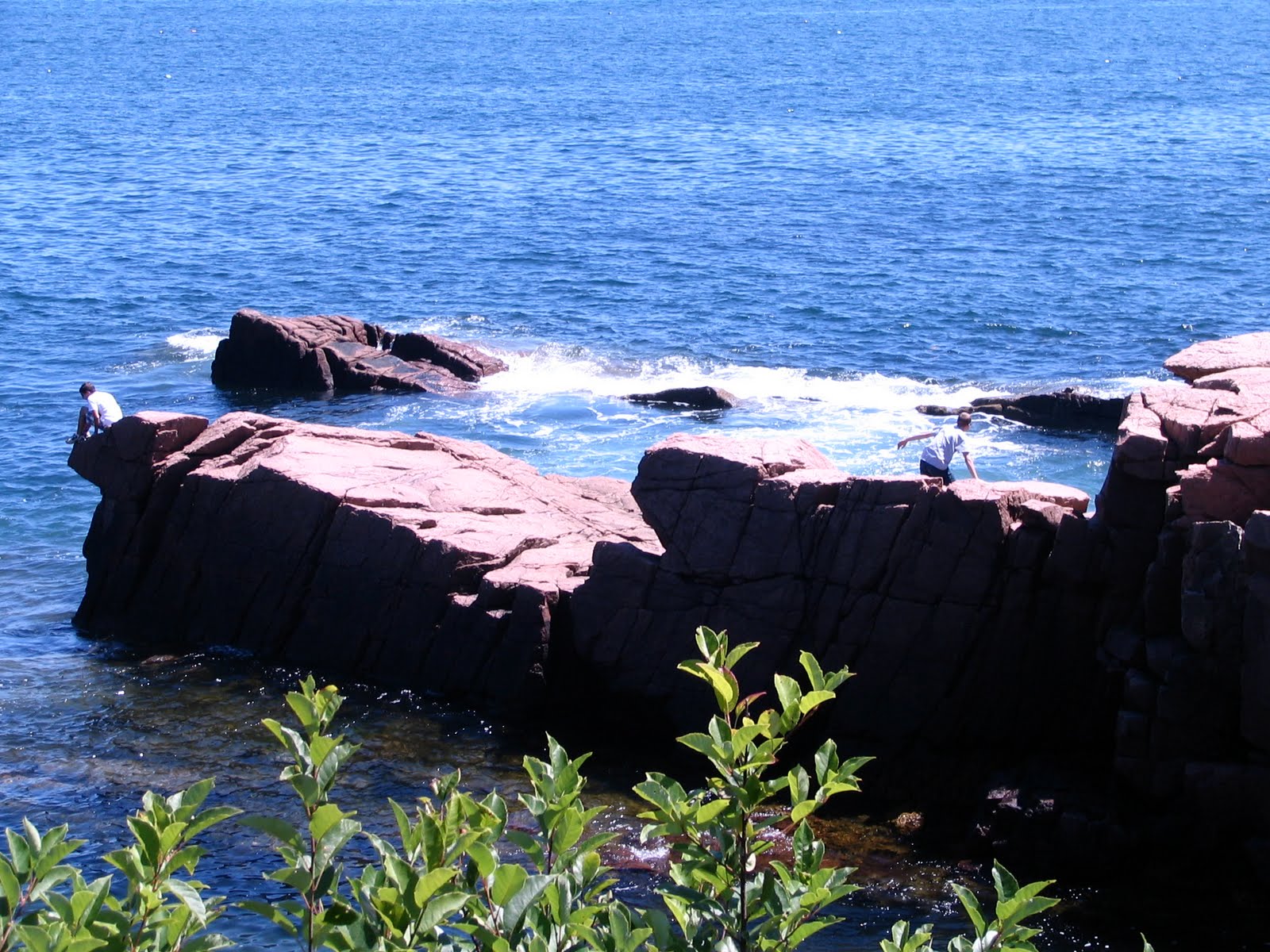 The tide flowing in.
Last night had the lowest temperatures we've seen so far. It wasn't freezing but it was definitely in the low 50s. This meant sleeping in our sleeping bags instead of just on them or under them. We were able to sleep in until around 9:30 unlike those around us who have kids that were up well before.
I've also noticed that we have the smallest footprint of any camping setup out here. Everyone has these massive condo tents and at least two on every spot. We, on the other hand, are simply using our hiking tent that is just big enough for two people to sleep side-by-side. I should mention that this is the first campsite that we've had where it was actual camping and not just living out of our car. Our car, now being over 50 yards from our site, isn't as accessible as it has been at all of our previous drive-on sites. Of course we are still living out of car so I've been using the term "camping" loosely.
Amanda reminded me this morning that this is our last campsite of our trip. When we leave here on Sunday morning we'll be heading for a hotel in New Hampshire, then to my sister's house, then to a hotel in Scranton. I'm not sure how I feel about that. So far I've really enjoyed camping. It's relaxing and gives you a new perspective on things.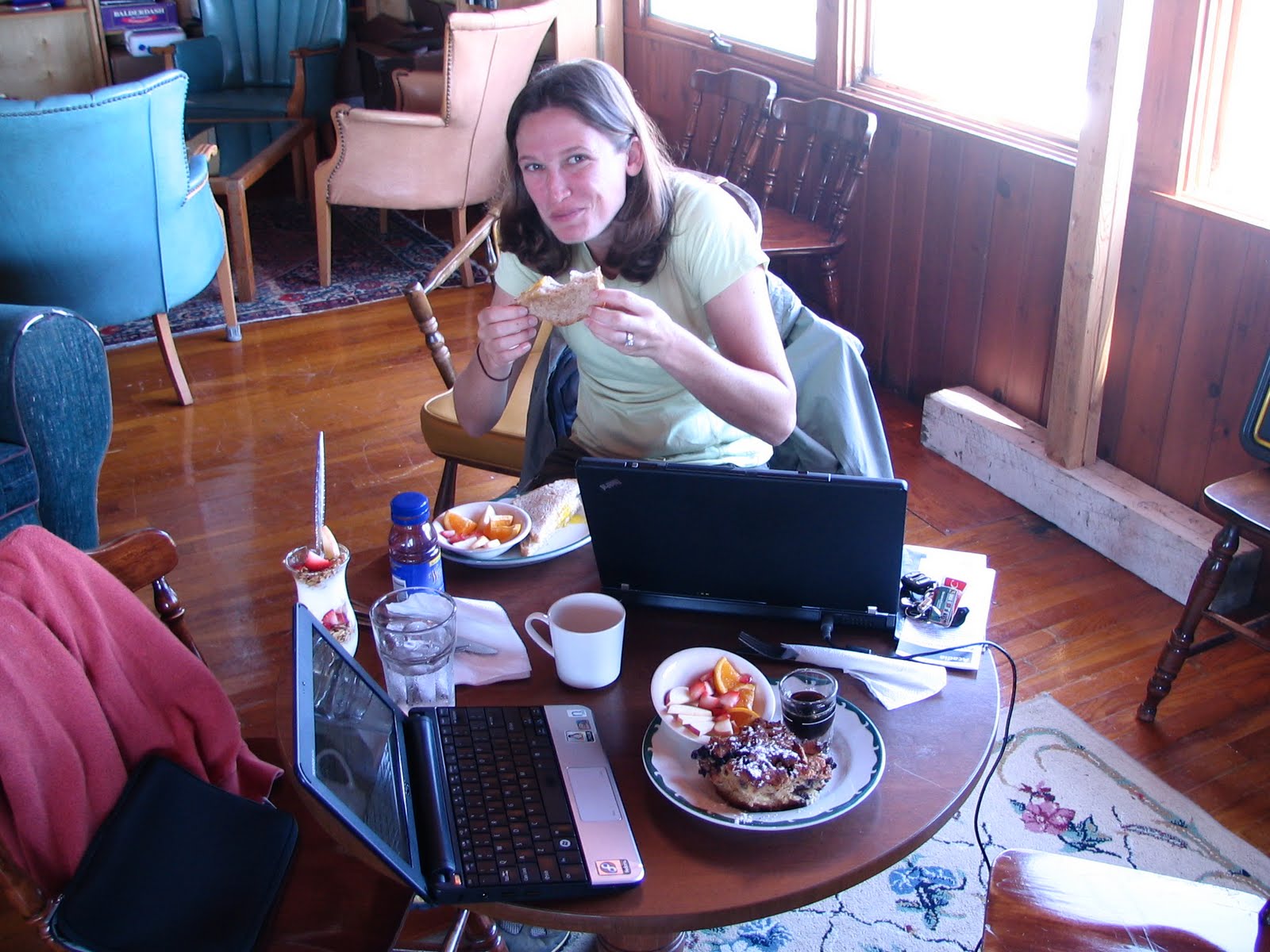 Amanda enjoying an un-commonly good breakfast.
We stopped by the Common Good restaurant, which overlooks the seawall, and had a very good breakfast. The restaurant offers free soup and live entertainment in the winter and also operates a free soup kitchen year-round. I had "deep dish French toast" which actually had a layer of blueberries which were awesome. All of the ingredients were local and organic, where possible, and garbage was separated into compost, recyclables, and everything else. Pretty cool if you ask me.
After breakfast, although we might should call it brunch for accuracy, we headed to the east side of the island to Thunder Hole where, just before high tide, the waves coming in make a monstrous roar and spit water high into the air as they come into contact with the rocky coast. This particular geographic wonder really puts on a show during storms. Unfortunately for us the seas didn't have it in them to give us the spectacular show that we've seen in pictures. The nearby rock formation, however, did produce some interesting splashes and was fun to watch. Thunder Hole was followed by a hike down to Otter Cliffs and then a quick drive over to the gardens which represent many of the plants in their habitats found in Maine.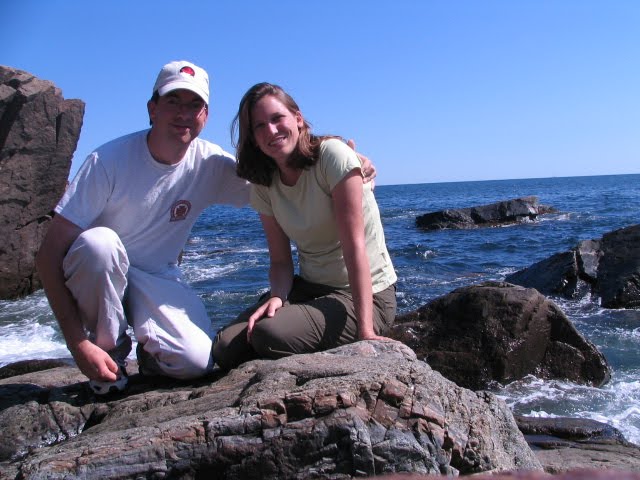 Just sitting on the beach.
We ventured back into Bar Harbor to find supper. We also remembered that we should have looked up Geocaches for the area, of which we still hadn't, and so we found some free WiFi and ate a nice supper at Hot Spot. Amanda didn't want to know, but found out anyway, exactly how many caches we had walked by in the past day. So after supper we quickly made three finds and made plans for a few others. I'm not supposed to mention how many we had actually walked by earlier in the day.
The sun was setting and so we made our way to Cadillac Mountain once again. This time, however, it wasn't to see the show that the sun puts on when it sets but rather to watch the entire universe be our entertainment. Once it was dark the night sky just lit up. I'm not sure if I've ever viewed the sky when it was so alive! You could clearly see the Milky Way's "cloud" and many stars that I've never seen before. Tonight was at the end of a meteor shower but there were still quite a few meteors to be seen. One went directly over our heads and was big enough that you could actually see pieces breaking off and burning up. We stayed up at the top of the mountain for over an hour just watching the sky come to life. We even saw a satellite come whizzing across the sky with the sun reflecting off one side. Very cool.
After all that we ventured back to the west side of the island where our campsite is located. All of the flashlights have migrated to the tent so we had to make our way through all the other campsites in complete darkness. Amanda burst out in muffled laughter a few times. We found our tent, without incident, and climbed inside. She's working on a book while I'm working on this post. Unfortunately it won't be posted until the morning.
Tomorrow our plans are to stay on this side of the island and visit the nearby lighthouse, hike some trails, and go find a few Geocaches (including a couple Earthcaches).