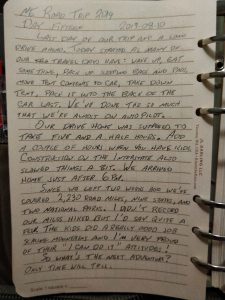 Last day of our trip and a long drive ahead.  Today started as many of our travel days have: wake up, eat something, pack up sleeping bags and pads, move tent contents to car, take down tent, pack it into the back of the car last.  We've done this so much that we're almost on auto pilot.
Our drive home was supposed to take five and a half hours.  Add a couple of hours when you have kids.  Construction on the Interstate also slowed things a bit.  We arrived home just after 6PM.
Since we left two weeks ago we've covered 2,230 road miles, nine states, and two national parks.  I didn't record our miles hiked but I'd say quite a few.  The kids did a really good job scaling mountains and I'm very proud of their "I can do it" attitudes!
So what's the next adventure?  Only time will tell.
Comments closed