Both kids wanted birthday parties with their friends this year, so we scheduled parties for either side of Thanksgiving and made it happen.
We outsourced Elise's party to The Polymath Place, a neat little center where they have tutoring, classes, workshops, summer camps, and a kids theater program. They said they would plan activities along any theme and Elise suggested "rainbow superhero." We invited her whole preschool class and got seven little girls and one little boy from her class plus some other friends from outside of daycare. The kids were all amazing. They decorated superhero masks; did superhero poses and played Duck, Duck, Goose (but using silly superhero names they made up); colored and baked Shrinky Dinks; and made marshmallow shooters (and fired them at the parents). We bought a rainbow cake and added superhero figures on top. Elise donned a rainbow skirt and superhero cape for the occasion. All in all, a fun time.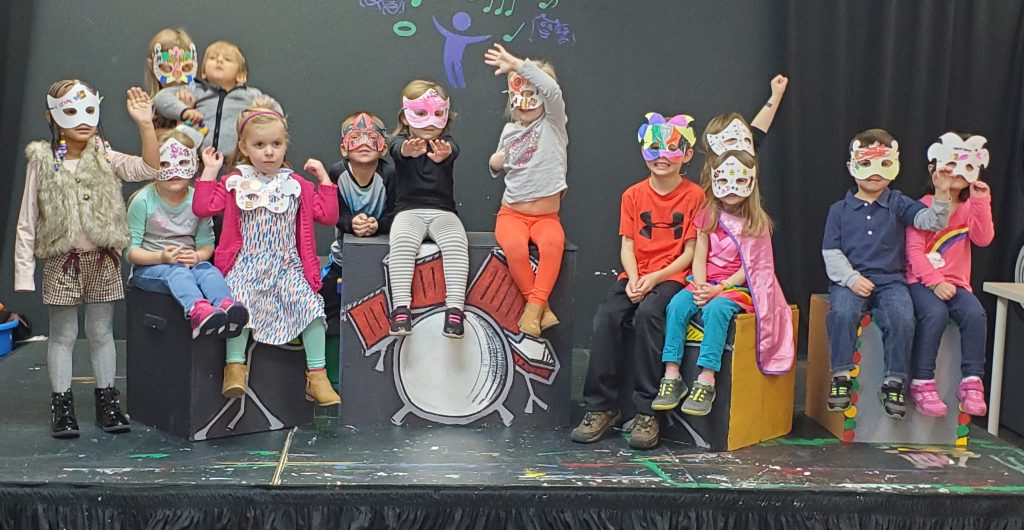 Harlan really wanted to have friends over to play for his birthday, so he invited all the boys from his class (because girls, totally not cool), our bus stop crew, and a couple other friends. I lost track, but we probably had about a dozen kids. I kept from planning so much this year, but I decided the kids needed an activity to keep them busy on arrival, so I bought 100 little plastic wheels and axels, a box of straws, 30 plastic propellers, and a box of rubber bands. We already had a huge box of popsicle sticks, tape, markers, and glue guns, so I wrote out some basic instructions on how to make cars and rubberband helicopters, and the kids took it from there. They were great helping each other and patiently waiting for the glue gun. As they finished their cars we raced them down a cardboard ramp. They rolled, they crashed, the boys cheered, there would be numerous claims of being the winner, and then they'd do it again, adding in the kids as they finished their cars. Some of them also managed to make rubber band helicopters and launch them off the front porch, but most opted for decorating or racing their vehicle creations until we headed outside. A couple parents got into it too and made propeller-powered cars. When the kids had mostly finished their vehicles Harlan led the charge outside to the backyard. Apparently he'd been talking up our new zip line at school, so most of the kids were pretty excited to get to try it out. I had bought a harness instead of just the seat for some added safety, which also meant added time to get everybody on and off, but they kids were patient and another mom stepped in and helped Eric strap them each in and send them down. After that the kids easily entertained themselves with a backyard Nerf gun battle. In addition to arming themselves with ammo and guns, they raided the dress up box and were geared up in all manner of outfits. They ran out of military-style helmets quickly, but others happily donned a safari hat, astronaut helmet, storm trooper mask, etc. and charged into battle.