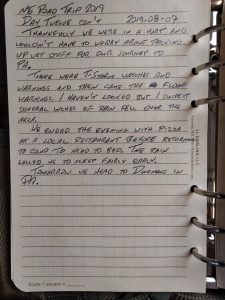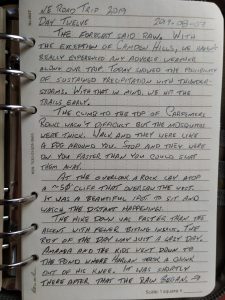 The forecast said rain.  With the exception of Camden Hills we haven't really experienced any adverse weather along our trip.  Today showed the possibility of sustained precipitation with thunderstorms.  With that in mind, we hit the trails early.
The climb to the top of Carpenters Rocks wasn't difficult but the mosquitoes were thick.  Walk and they were like a fog around you.  Stop and they were on you faster than you could swat them away.
At the overlook, a rock lay atop a ~50-foot cliff that overlooked the west.  It was a beautiful spot to sit and watch the distant happenings.
The hike down was faster than the ascent with fewer biting insects.  The rest of the day was just a lazy day.  Amanda and the kids went down to the pond where Harlan took a chunk out of his knee.  It was shortly thereafter that the rain began.  Thankfully we were in a yurt and wouldn't have to worry about packing up wet stuff for our journey to Pennsylvania.
There were thunderstorm watches and warning and then came the flood warnings.  I haven't looked but I suspect several inches of rain fell over the area.
We ended the evening with pizza at a local restaurant before returning to camp to head to bed.  The rain lulled us to sleep fairly early.  Tomorrow we head to Dingmans in Pennsylvania.
Comments closed