Since we're now (more than) halfway through the summer, I'm going to do a summer compilation roundup here and then post-date a couple earlier posts on specific events.
So first, this happened: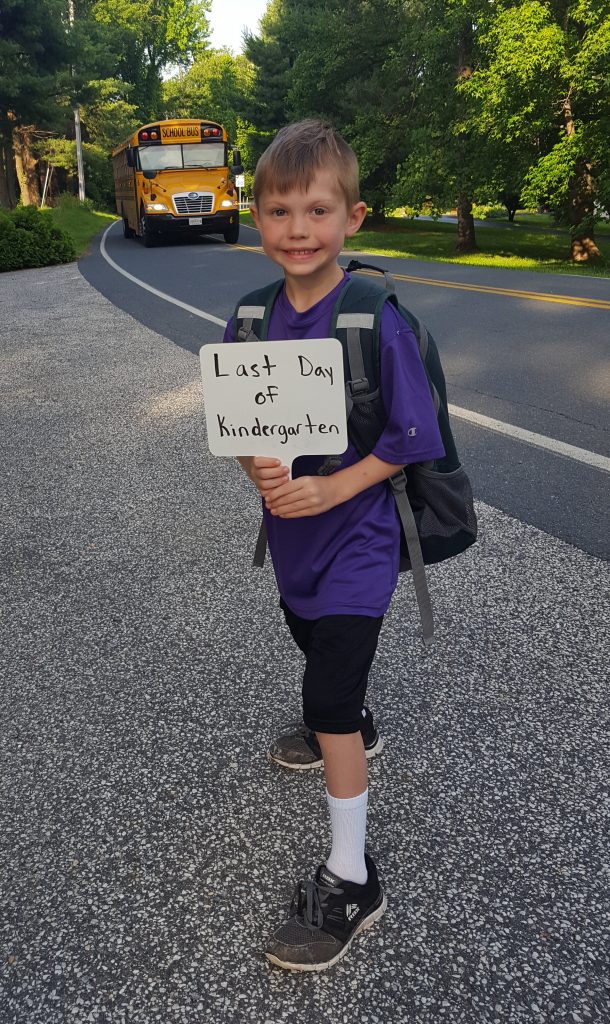 On his fourth quarter report card, his teacher wrote: "Harlan continues to excel and show great potential in the classroom. His accuracy when reading is at 98% according to the Oral Reading Assessment. He tested above average on the Numeracy Assessment, and he really shows talent in the Science, Technology, Engineering, and Math area. Please continue to speak with Harlan about slowing down to review his work when he completes it in order to prevent simple mistakes, and thinking about his actions before he acts."
School has long been forgotten now though. Every time we drive by the building I remind him that he will be going back, but three months is a long time when you're six. He has adapted easily to summer. He quickly took advantage of getting to stay up later (Moooom, the sun is still up, I should be too!), and we've kept busy with a variety of activities.
Elise has had a harder time with summer. She was used to Harlan already being at school when she woke up (or maybe waking up just in time to walk him to the bus stop), and having him going to the daycare facility with her seemed to throw her off. Or maybe it was losing most of her class who moved up into the 3-4 year old room at the start of summer. And also perhaps that Eric has been out of town a fair bit this summer, which has thrown off her usual routine of morning daddy snuggles. For the first time in her life she was clingy at drop off… for a month. It was tough and unexpected when we signed Harlan up for summer camp in the youth center next door to the preschool center. He has enjoyed seeing old friends and has happily headed off each morning while she's been the reluctant one (a reversal from their usual roles). They have had some fun dress up days at camp (most of which I have not photographed because it's hard enough just to get them out the door, let alone record visual evidence):
Of course we've also spent some time down at the beach. Elise is completely fearless in the water, which is nerve wracking for me, but she has a great time. There aren't as many pictures as last year because I spend my time expecting at any second to have to jump in and yank her out from under the water. Even when she does go under she's completely nonplussed though. I don't even want to think about how much of the bay she has consumed.
Both kids have also been taking swim classes. It's a slow-moving class at the rec center, which is just fine with Harlan, who is perfectly happy never to put his head in the water. Elise can't take classes on her own until she's 3, so she's in the parent/child class. Unlike Harlan, she is thrilled to hurl herself into the pool, and on the first day entirely unprompted was doing a pretty good doggy paddle.
Comments closed