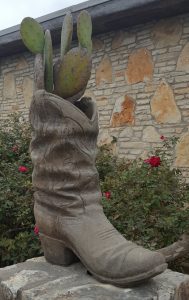 I recently had a wonderful vacation in Austin, Texas with two of my college friends, Elinor and Katie. Elinor, who is doing a post-doc at the Univ. of Texas at Austin, was our wonderful host, who kept us busy exploring the local area (and also eating).
One of our first stops was for Mexican, including a taco with egg and cactus. The following day was my first (but not my last) experience with Texas brisket. Soooo good! We had Venezuelan from a food truck one evening and a taste of Brazilian cheese bread from a farmers' market stand, among many, many other delicious treats. Clearly I was too busy stuffing my face to photograph everything. There was not a bad meal the entire trip. Well, I could take a pass on that cold pressed dark chocolate drink we tried at the farmers' market, but other than that- everything was delicious!
This slideshow requires JavaScript.
When we weren't eating Katie and I entertained ourselves taking selfies with cactuses and other similar plants not native to the east coast or Ohio (where Katie lives). Elinor helpfully suggested we name our photo essay "The Arid Adaptive Plants of Austin." So here it is:
This slideshow requires JavaScript.
We swung by South by Southwest, taking in the scene and attending a film showing.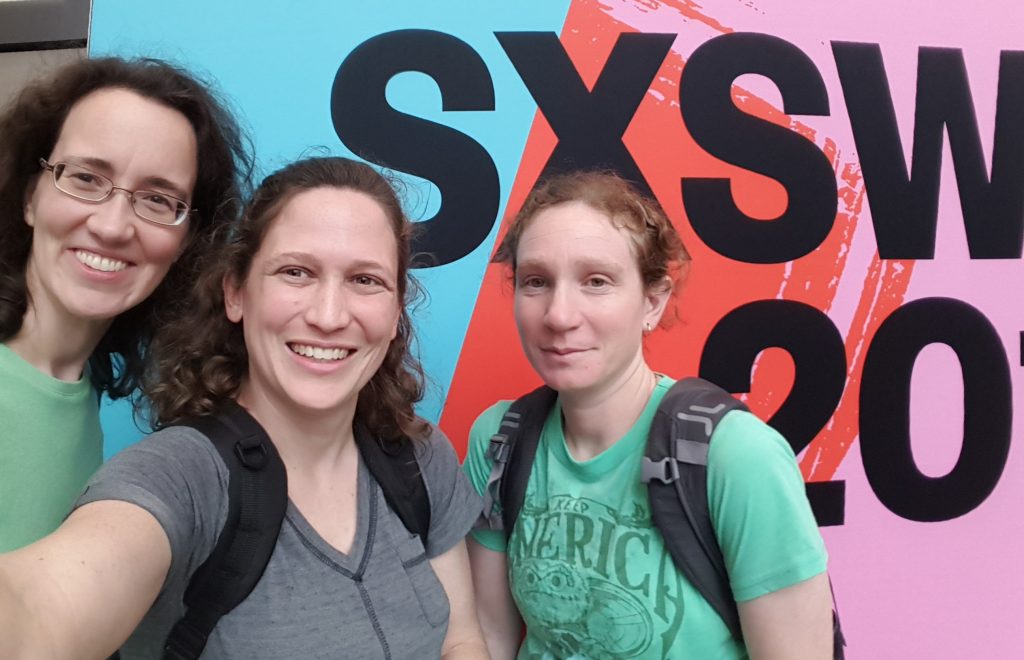 I unfortunately did not take any pictures of the honky tonk we went to one night. They had several bands and some good dancers. It was a diverse crowd- literally from man buns to cowboy hats- and a range of ages as well. I did take this totally unrelated picture of a cow decorated with a Scrabble board though because of course I did.
On my last day, I spent some time exploring the University of Texas at Austin on my own before my evening flight while Elinor attended a work seminar. After seeing Elinor's lab, I headed over to the Harry Ransom Center, where a very friendly volunteer showed me their current vaudeville exhibit as well as one of five complete copies of the Gutenburg Bible in the United States, and what was described as the "first photograph." It was made from a pewter plate and showed a view out of an upstairs window in the house of the creator (Joseph Nicéphore Niépce). Then I headed back out onto campus to find The Color Inside, a Skyspace by artist James Turrell. It is recommended to visit at sunrise or sunset, but it was also pretty neat mid-day, and I was the only one there so it was very quiet and relaxing to lay on the floor and look up through the hole in the ceiling at the clouds moving.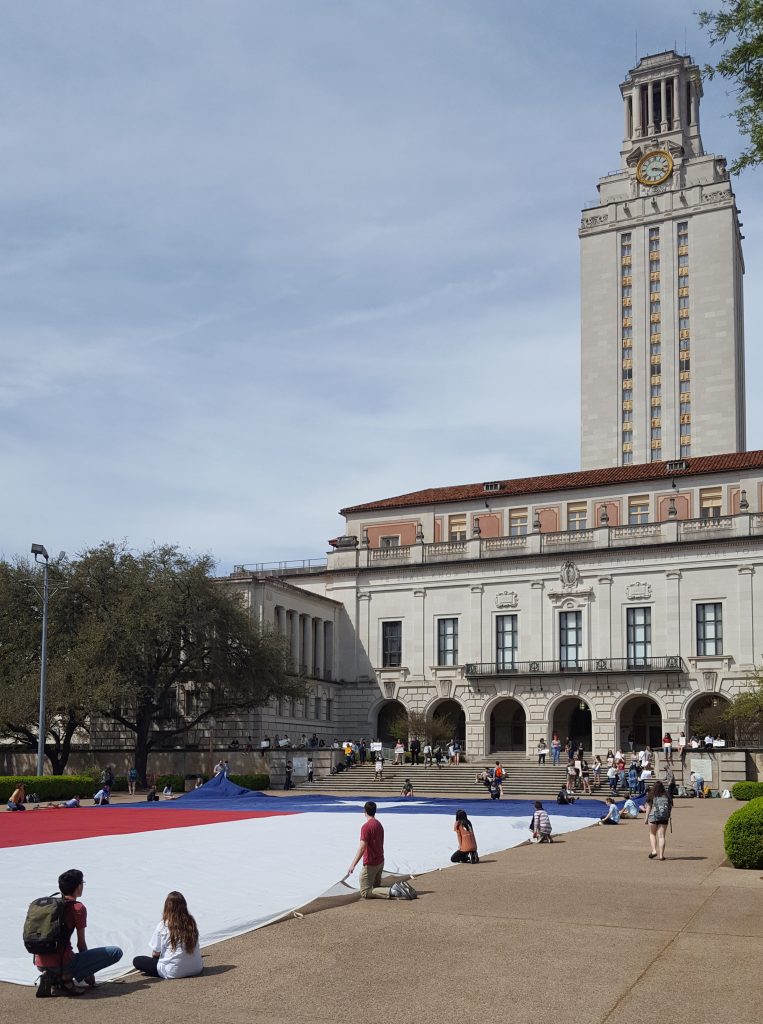 Elinor and I also stopped by a park and saw a really long bridge over what was, at that moment, a really small creek.
It was a wonderful, wonderful trip, and I was so glad to spend it with such fun friends. I also couldn't have done it without Eric, who, despite being outnumbered, expertly handled two kids while I was gone (probably even getting them in the bath more frequently than if I had been home). It was wonderful to video chat with them, even if Elise was mostly interested in watching what Elinor's cats were up to.
1 Comment