I don't think Amanda wants to talk about the car ride from Charleston to Emerald Isle.  There may have been poop involved. A lot of poop. Not Amanda's! Elise sure knows how to time the big ones. First on the to do list upon arrival at our rental house – wash the car seat cover!
N.C. Aquarium at Pine Knoll Shores
What trip to the beach would be complete without a trip to the Aquarium?  We took everyone over to the N.C. Aquarium at Pine Knoll Shores and explored everything!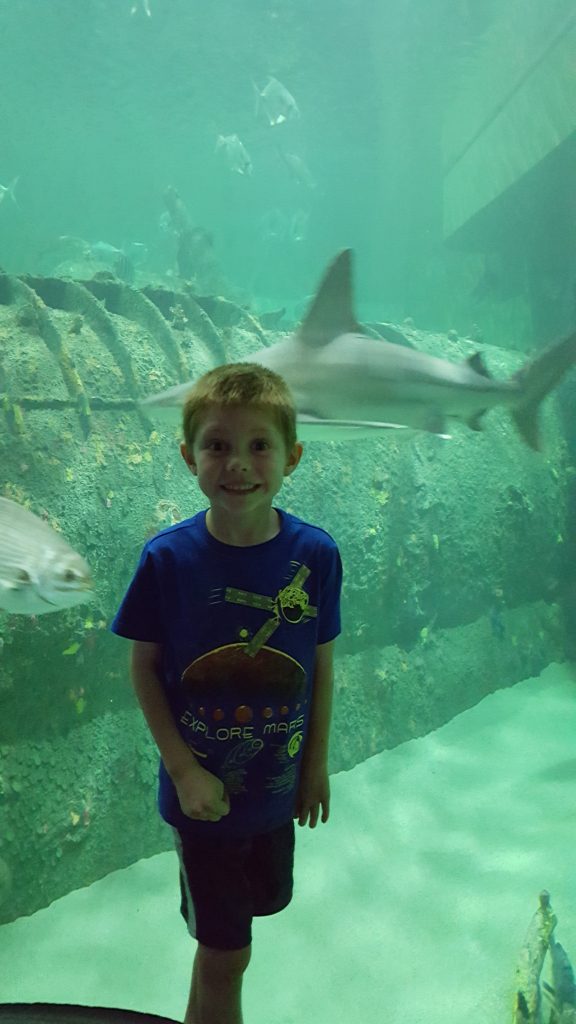 And then there was the sea turtle: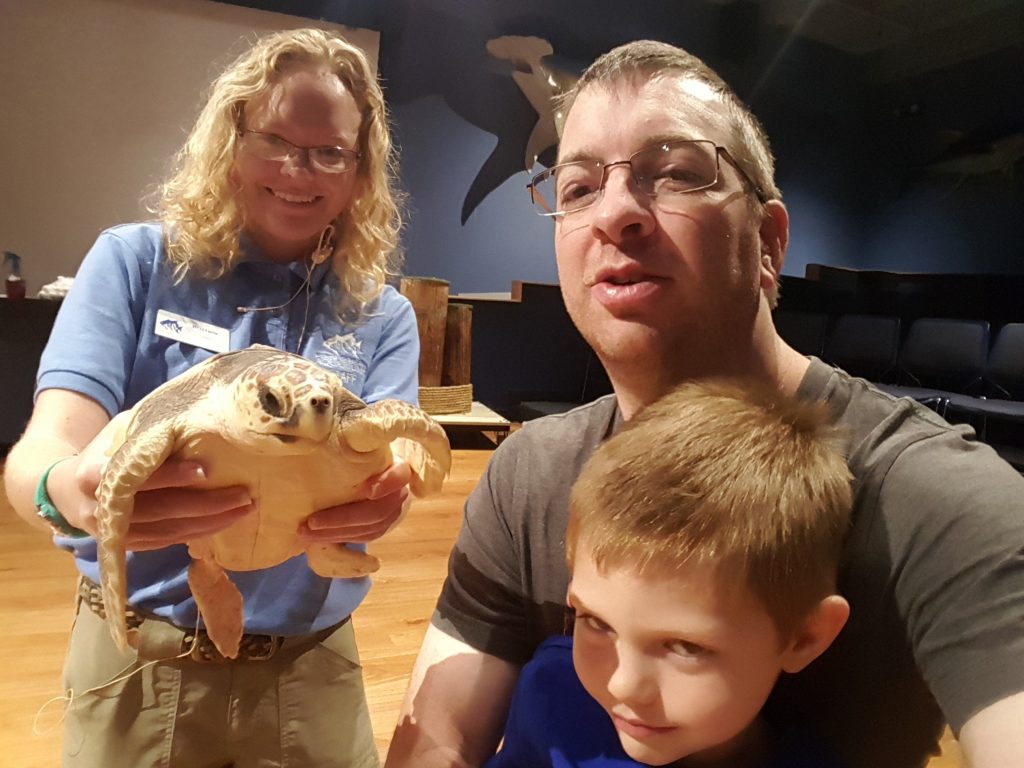 The aquarium rehabilitates sea turtles and sends them on their way when they are ready.
Elise enjoyed looking at the otters.  Comparatively, she seems to be about the same size as the North American River Otter: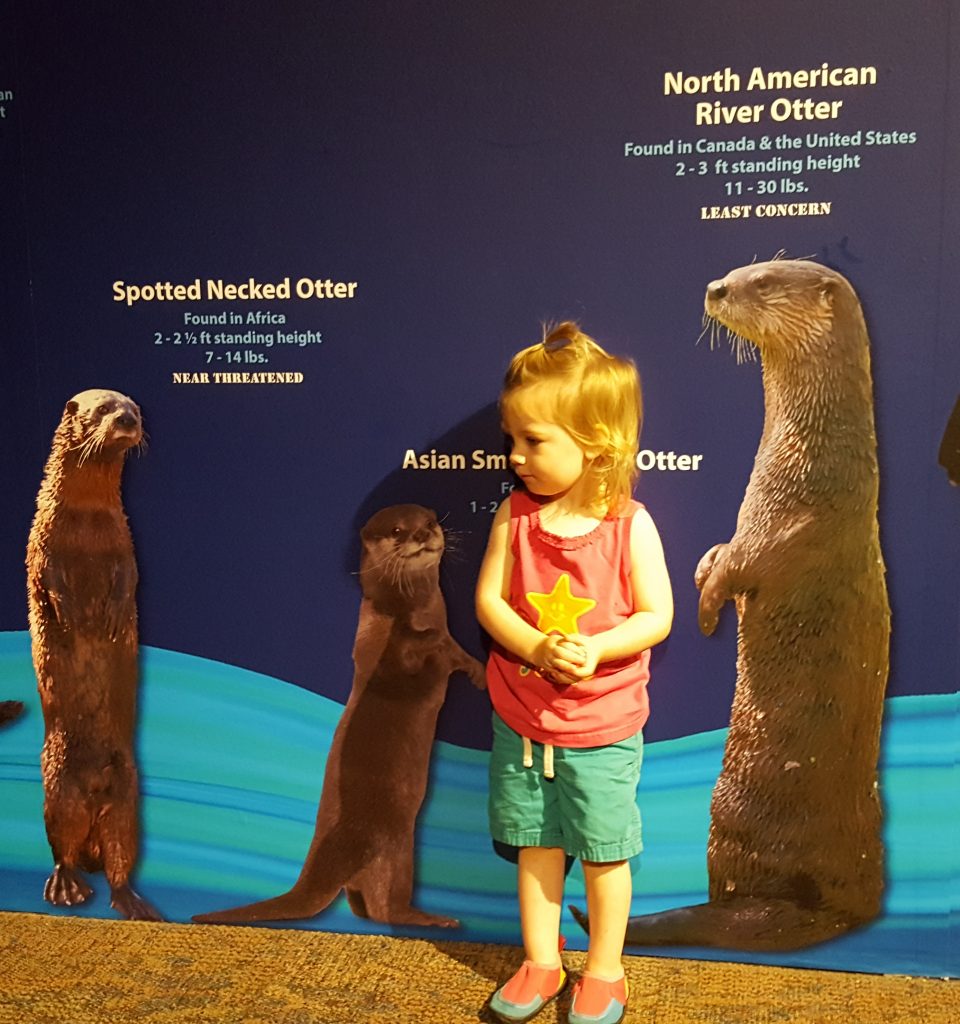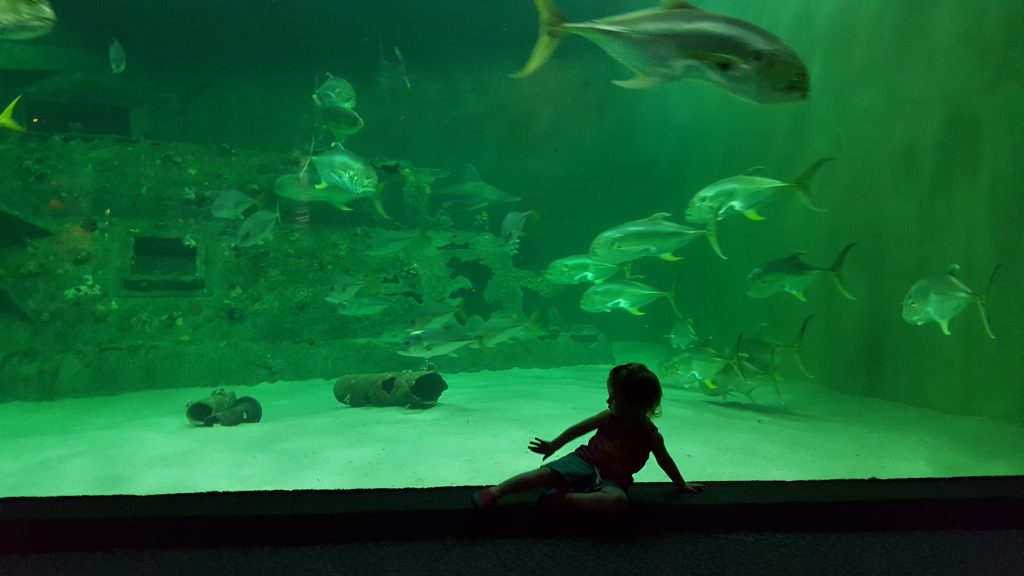 Oh, and did I mention they have an awesome outdoor adventure area? Harlan and Elise both climbed this cargo net and spent time sliding down the slides and generally running around while Amanda and I hiked the nearby loop trail (thanks to Nana and Papa for watching them so we could make this hike and feed at least a hundred mosquitoes along the way).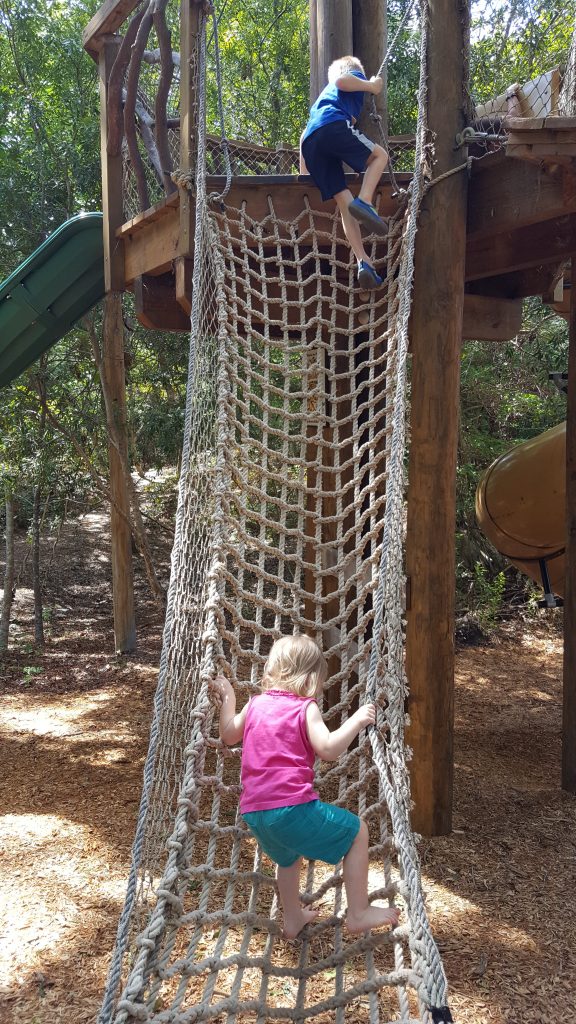 Fort Macon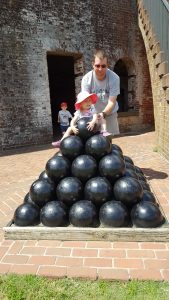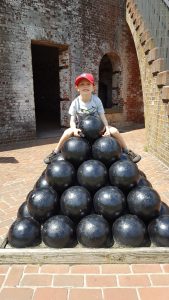 Years ago we brought Harlan to Fort Macon and he really enjoyed exploring.  Elise was exactly the same!  This old fort has been through a lot and is now open to the public.  There are great views of Beaufort Inlet and Harlan really enjoyed inspecting all the cannons and guns.
And, of course, there is the obligatory cannon ball photo.  We took a picture of Harlan sitting on the cannon balls when we first brought him and we had to do the same with Elise.
Before leaving, Amanda, Harlan, and I were able to get out and explore the 3.3 mile loop trail that takes you around the state park.  Very cool area and the trail was pretty busy with folks jogging, walking, and exploring.
And then there was the beach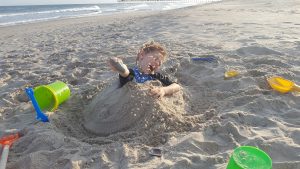 It's been years since I had made it back to the beach.  Unfortunately we spent a lot of time on the go so I didn't get to spend a lot of time just staring at the water but I did get in some sand time.  Harlan decided to bury himself in the sand, Elise chased birds in hopes of befriending one, and I had a disagreement with a ghost crab during an evening walk.
We also went out on Bogue Inlet Pier and watched folks fishing. The observation deck was quite busy but I was able to bring a little piece of solitude back with me:
Next stop, Plymouth!
We bid farewell to the beach and to Nana and Papa and headed inland to Grandma and Grandad's house to close out our trip.
Comments closed