Saturday was promotion day at Elite Martial Arts Academy! Eric, Harlan, and Elise, along with 24 other students, tested for promotions during a marathon testing session that lasted for several hours.  Here's how it all went down…
Elise's Test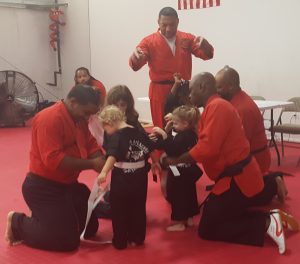 While Harlan and Eric have been working hard for months to improve their combination kicks and katas, Elise had been working on learning her block-punch-kick combination and the first half of the Kibon Hana kata.  She is a little younger than Master Parker generally likes to start a student, but Elise has been paying attention to her big brother and was already starting to show off her kicking ability while hanging out at the dojang.  Master Parker said that if she could demonstrate block-punch-kick combination, which not only shows off kicking and punching but also coordination and balance, as well as the first half of the first kata then he would reward her with her White Belt in Tae Kwon Do.
True to being a two year old, Elise did not take to being ordered around very well.  She performed her block-punch-kick but then decided that she wasn't going to do her kata.  She had been doing pretty well up until that, but it was past nap time.  Master Parker said that he would come back to her in a few minutes after she ran off the mat to go get a snack.
A few minutes later (with a snack in her belly) Elise was back on the mat redoing her block-punch-kick and her Kibon Hana.  She got approvals from all senseis present and passed her test!
Harlan's Test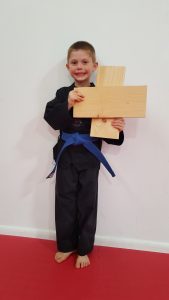 Harlan was hoping to promote to a Blue Belt from his current rank of Green.  Blue starts the advance ranks of belts at the junior level, and Harlan was ready!
In the weeks prior to the exam he had been practicing his combination kicks including one, the skip side kick with a jumping roundhouse kick combination, that he's become quite proficient with and is known for at the dojang.  He had also been studying all his katas needed for his exam.
Harlan's test was significantly more difficult as they were required to show all katas through Green, combination kicks, and endurance using push-ups as well as holding those push-up positions for longer periods of time.  Harlan took this all in stride, however.
Here, Harlan does one of his combination kicks:
The only difficulty came when it was time for Harlan to break his board, a requirement for obtaining his belt.  Despite knowing his proper kicks, it was difficult for him to come up with enough power to actually fracture the board.  He was very frustrated and tired after repeatedly trying to break his board using various kicks, especially since the other older students had all broken their boards, sometimes on the first kick.  In the end, Harlan was able to ax-kick his way through the board and was awarded his Blue Belt.
Eric's Test
Eric's test started as a Yellow-to-Green examination, but Master Parker had other plans.  After completing what he wanted to see from those promoting to Green he then asked Eric to step forward and to change his mindset from Tae Kwon Do to Aiki Jujitsu.  While Tae Kwon Do is a Korean martial art, Aiki Jujitsu is a Japanese martial art that is practiced first on air and then, using an uke, actually performed on a person at a reduced power one would use in combat, to demonstrate competence.
First, Eric was asked to demonstrate Aiki Jujitsu katas one through three.  After successfully doing so, our resident uke was asked to the floor to receive the katas for a demonstration:
Knowing Ken (uke) had to go to work the next day, Eric tried to be easy on him, especially with the foot sweeps.  That was, however, unacceptable to the senior sensei who wanted to see better power and not just "walking through the kata".  So, Sensei Chad was offered up as uke, one that has more training in actual fighting and would be able to take the blows:
Eric was then asked to describe what body parts he was striking and how they were being affected by the strike. After successfully completing this demonstration of knowledge, Eric was awarded his Blue Belt.
Comments closed