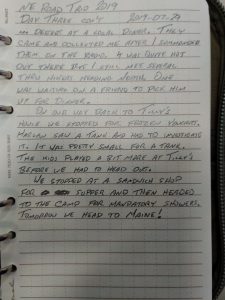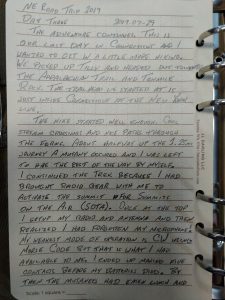 The adventure continues.  This is our last day in Connecticut and I wanted to get in a little more hiking.  We picked up Tilly and headed out towards the Appalachian Trail and Tenmile Rock.  The trail head we started at is just inside Connecticut at the New York state line.
The hike started well enough.  Cool stream crossings and nice paths through the ferns.  About halfway up the 1.25mi journey a mutiny occurred and I was left to hike the rest of the way by myself.  I continued the trek because I had brought radio gear with me to activate the summit for Summits on the Air (SOTA).  Once at the top, I setup  my radio and antenna and then realized I had forgotten my microphone!  My weakest mode of operation is CW using Morse Code but that is what I had available to me.  I ended up making five contacts before my batteries died.  By then the mutineers had eaten lunch and dessert at a local diner.  They came and collected me after I summoned them on the radio.  It was quite hot out there but I still met several thru hikers heading north.  One was waiting on a friend to pick him up for dinner.
On our way back to Tilly's house we stopped for frozen yogurt.  Harlan saw a tank and had to investigate it.  It was pretty small for a tank.  The kids played a bit more at Tilly's before we had to head out.
We stopped at a sandwich shop for supper and then headed to the camp for mandatory showers.  Tomorrow we head to Maine!
Comments closed