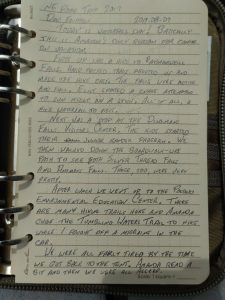 Today is waterfall day! Basically this is Amanda's only reason for coming on vacation.
First up was a hike to Raymondskill Falls. Hard packed trails greeted us and made the hike easy. The falls were active and full. Elise spotted a snake attempting to sun itself on a stick. All-in-all, a nice waterfall to visit.
Next was a stop at the Dingmans Falls Visitor Center. The kids started their Junior Ranger program. We then walked down the boardwalk-like path to see both Silver Thread Falls and Dingmans Falls. These, too, were very pretty.
After lunch we went up to the Pocono Environmental Education Center. There are many hiking trails here and Amanda chose the Tumbling Waters Trail to hike while I fought off a migraine in the car.
We were all fairly tired by the time we got back to the tent. Amanda read a bit and then we were all asleep.
Comments closed